A Dad who did opera but not cinema. Making ends meet for charities. First crush: Miles Davis. Managing events (and DJs) around the Med. Running skate competitions. Costumier, masochistic runner, rower and cyclist.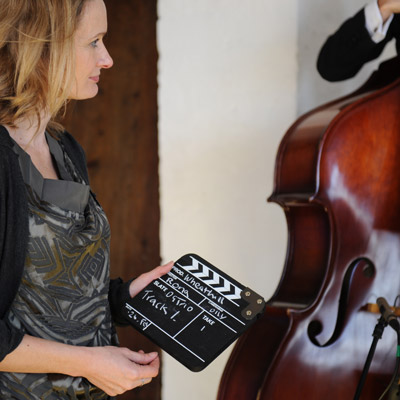 Rona's path into event management has been anything but straightforward, but she's picked up the skills to do it with aplomb.
Practically speaking
Rona brings 10 years of experience as a Project and Account Manager in leading graphic and multimedia design agencies to Wheathill. She focuses on financials, marketing and overall management.
Her background and experience working for major clients – including the Bank of England, The Environment Agency, the South West Regional Development Agency and the Met Office – means she's got the management oversight to manage Wheathill's activities, and when necessary, the diplomacy to navigate complex situations.
But Rona's also a creative soul. In between juggling the many organisational aspects of the company, she's busy directing photography and film sessions, writing about artists and creating and styling costumes. This colourful string to her bow helps Wheathill the uniquely different entertainment agency that it is.
In her own words
"I've always been the doting big sister – Heather's arrival was the best thing that happened in my childhood. We've always enjoyed putting on a performance of some sort or another, as long as I wasn't in the limelight. Heather did the performance, I made the costumes and charged for the tickets."
Big loves
Music. Food. Sensory bombardment. The wind in her hair. Snow. Being a mum. Whizzing about on bikes, boats and planks. Happy clients and contented artists.